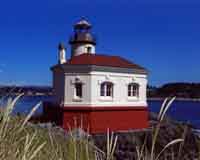 For 21 years, Lighthouse Digest, the lighthouse history and news magazine, has been telling the stories of lighthouses and the keeper's and families who served at these historic structures so that this history may be preserved for future generations. By subscribing to Lighthouse Digest, or by purchasing a gift subscription, you will help us our efforts to rediscover and continue to write and record the amazing stories associated with lighthouses, which are among the most historic structures in the world.
If you are not yet a subscriber, subscribe today to begin with the next issue of Lighthouse Digest.

Saving Lighthouse History since 1992!